OMG I can't keep up with all those changes and Pinterest updates!
And that's exactly why I'm here, with the weekly update (not only Pinterest updates!), in a language anyone can understand. Coming even with a few tips and implementation strategies!
You're welcome 🙂
Starting with a few statistics
Apparently, Pinterest is interesting. Who would have guessed!?
So what's up with that affirmation? It means that trends, like Bronde, Balayage and Sombre, are not only discoverable on Pinterest, but they actually manage to control the platform itself. Much like Twitter's Trending Topics, search is manipulated by trends in Pinterest, and results will vary according to what's hot.

According to the screenshot above, Men pins are also a rising trend in Pinterest, so it's not only a chick's world anymore.
All this is nice and (p)interesting (sorry, I just had to), but what do I care? I have a store, not a fashion blog!
What a smart marketer would do is look at statistics. Numbers are a marketer's best friends and that's why I'm attaching this here infographic: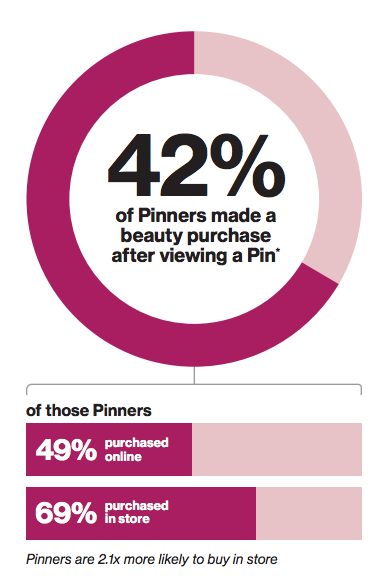 Just looking at the pretty colors, you can see that the percentage is a force to be reckoned with. 42% of Pinners made a beauty purchase after viewing a Pin. Imagine people coming into your store because they saw your product on Pinterest. Aside of being cool (tho not a Pinterest update), there are other things to think about here:
Pinterest is the ONLY social media platform to which people go with shopping in mind. They are potentially interested in finding a future purchase.
Yes, I said future. What? Pinterest can reveal the future of a user's actions!? Exactly! And yes, again, it's the only social media platform that reveals the future of trends and shopping habits.
At the moment, Pinterest is the leading social media platform for social commerce and it seems it's gonna stay that way for quite some time.
Continuing on: the shopping bag
Yup! Pinterest is so in sync with it's users (unlike other social media platforms trying to tell users what they think they want) that they came up with this Pinterest update as a way to ease shopping on Pinterest.
After the Buy button now comes the shopping bag which will help you buy more stuff quickly and easily. Complete look Pinboards anyone?