Why should I?
The WHY aspect is basically the answer to my opening paragraph: To get noticed. A pretty image will make your post more noticeable, just like a well executed composition will make sure your photo will get noticed on Instagram.
While scrolling down your feeds, you're gonna stop for a second on a beautiful photo or a well done text overlay, read it and decide whether to click on it, which is basically what we want to achieve.
Third tip: Great copy
And I don't mean copy-paste. I mean copy writing. An interesting title, an intriguing question or a doubt that you always had, reappearing as a post title, will make sure you'll at least skim the article, but the click is the important part, really.
A few good starting points for writing an attractive title:
Lists: Everybody loves them. They're easier to consume and easy on the eyes. Basically, they're just easier.
Questions: Call out to the reader and make him want to answer, or find the answer in your article.
Emotion: Getting an emotional reaction from someone online is not easy, but it will make sure your post will get shared. Make'em laugh, make'em angry or make'em scared, whatever, just get them clickin'!
Case in point
I have recently had a talk with my Pizzeria client in Verona, Italy, who had a few issues with following my tips. They tried to take photos of their dishes and post them online, but the results just didn't satisfy them.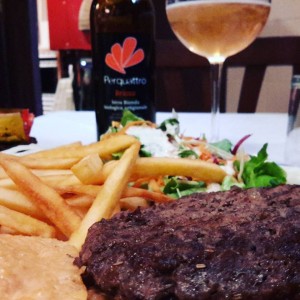 What I did was simply explain to them how to compose a correct food photograph and I explained to them that writing a couple of words that weren't necessarily "our dish of the day", could actually get some feedback from followers.
Remember who your audience is, remember why they're following you and what they'd like to see. If you don't know yet, try to research them.
They will appreciate much more a photo that they themselves would take, rather than a simple photo of a pizza.
So remember, kids, create  eye catching content by
Making sure your content is interesting and sharable.
Adding a well executed graphics or photograph.
Spending some time on copy writing.
What do you do to create eye catching content? Share with us in the comments section!