Numbers are fun, and measuring stuff is exciting!
Said no one ever.
But it's important enough for you to learn how to do it properly, so let's concentrate on the key metrics to measure and get it over with.
1. Acquisition reports > All traffic > Sorted by Source/Medium
Google Analytics prides itself in measuring and reporting where your website visits come from. If you remember, I've wrote an article about the different channels that Google Analytics will show you.
The important aspect of knowing where your visits originate is to understand where your audience is, and where you're most interesting for your audience. A crucial key metric to measure is your traffic's source.
Is an ad placement paying for itself by bringing you potential customers?
Is an agreement with a blogger bringing you interested prospects?
Are your social media marketing efforts actually bringing in visits?
You can see each and every source and the type of medium used in Google Analytic's Source/Medium report.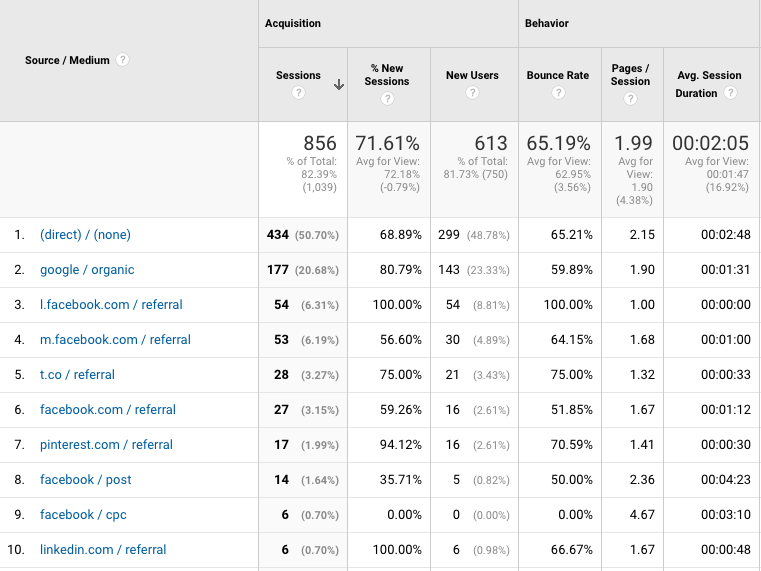 This table will show you where people come from, but it doesn't show you where they landed.
Since the intelligent thing would be creating custom landing pages for certain offers, adding deep links to CPC campaigns and social media posts, or simply sharing your blog content all over the internet, adding a secondary dimension showing the landing page would give you some deeper insights to what your visitors came to see.

2. Acquisition reports > Visits from Campaigns
When investing in marketing campaigns, you want to make sure you have a positive ROI, by confronting your gains with your expenses.
If a website visit or an article read can be calculated as a KPI, then you've got a win.
The second key metric to measure are the visits from Campaigns.

What's more, the goals columns at the end of the table will even show you if a certain campaign has actually generated conversions. How's that for ROI monitoring?
Just remember to add UTM data to your links so that you can see your campaigns easily in the reports.