Step 3: Retargeting the ad to members of a remarketing list
There are two possible ways to do this:
Add the remarketing list as a targeting method while creating your ad.
Attach the remarketing list to a campaign or an ad group after creating the ad.
Google has a few rules for AdWords retargeting for search ads:
Remarketing lists for Search ads are only available for the following campaign types:

"Search Network only – All features"
"Search Network only – Dynamic Search Ads

The list membership limit for these lists is capped at 540 days.
Display ads, on the other hand, have no restrictions with remarketing.
1. The targeting method
While creating your ad group you can choose who to target it to.
Click on Interests & remarketing and choose Remarketing lists from the drop down list. Then you will see the remarketing lists you just created in step 2. Choose the one you prefer by clicking on the » icon on the far right of the list.
2. The Attaching method
In order to attach a remarketing list to a campaign or ad group, you need to finish setting up the ad, and creating the list.
After all the previous steps are done with, you can open the Audiences tab from the main window and create a new Targeting by clicking on the big red button.
Choose whether you'd like to attach the list to a campaign or to an ad group, and then choose the correct campaign or ad group from the next boxes.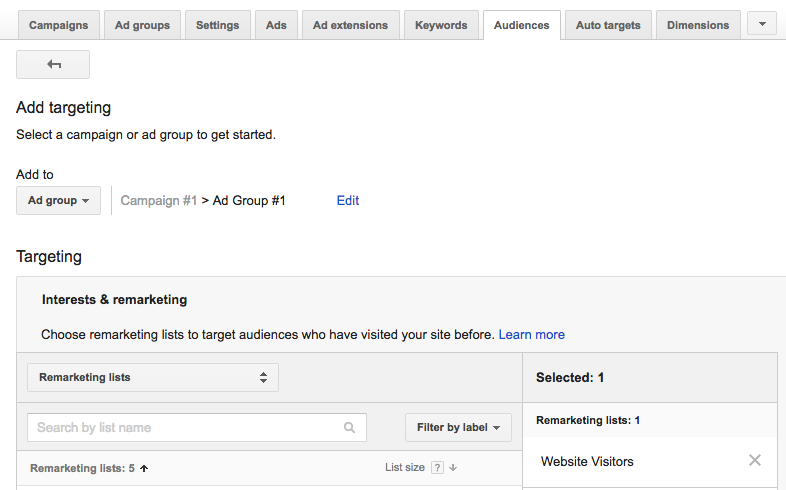 Last step is to choose the right targeting method, which today will be Remarketing List and choose the list you prefer, just like in the previous method.
And that's it!
Now your ads will be shown to the people on your remarketing list and will (hopefully) bring them back to finish their business, read another article, update their profile or whatever you want them to do.
Here's a great article from SearchEngineLand.com on how to create a well-oiled remarketing machine.
Don't forget to leave any questions (or thanks) in the comments section, or contact me directly using the form.